Interior Design Singapore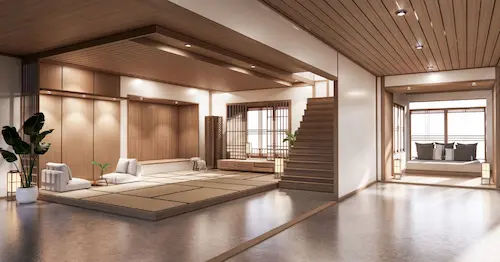 Singapore is a city known for its stunning architecture and innovative design. When it comes to creating beautiful and functional living spaces, interior design plays a pivotal role. It's more than just choosing the right colors and furniture; it's about transforming a house into a home, a space that reflects your personality and lifestyle.
The best interior design companies in Singapore are Three-d Conceptwerke, Fifth Avenue, Starry Homestead, Dyel Design, and Space Atelier.
In this ultimate guide to interior design in Singapore, we'll explore the art of interior design, help you find your unique style, guide you in hiring the best interior designers, walk you through the design process, and showcase the latest trends in Singaporean interior design.
Whether you're looking to revamp your existing office space, commercial space, or embark on a new project, this guide has you covered.
Quick Summary
The best interior design companies in Singapore are Three-d Conceptwerke, Fifth Avenue, Starry Homestead, Dyel Design, and Space Atelier.
When choosing interior design in Singapore, it's the size and layout of your home, your budget, your long-term plans, local restrictions, and regulations in terms of renovation and design.
Interior design in Singapore is a dynamic field that evolves with the times. It's a blend of cultural influence and innovation, shaped by the city's unique landscape and diverse population.
What is Interior Design?
Interior design is the art and science of enhancing the interior of a space to create a more aesthetically pleasing and functional environment. It's about optimizing the use of space, improving the flow of rooms, and choosing the right colors, materials, and furnishings to suit the occupants' needs and preferences.
Interior design in Singapore, where space is at a premium, it takes on an even more crucial role in making the most out of every square foot.
Principles of Interior Design in Singapore
Balance: Achieving a sense of equilibrium and stability in your space is crucial. This could be symmetric or asymmetric.
Proportion and Scale: The size relationship between objects in a space significantly impacts how comfortable the space feels. Good interior design ensures that furniture and décor are in proportion to each other and the room itself.
Contrast: Contrast creates visual interest by featuring elements that are strikingly different from each other. This could be achieved through contrasting colors, textures, shapes, or scales.
Harmony: This principle involves creating a sense of unity and cohesiveness in your space. This could be achieved through repetition of colors, textures, or patterns.
Rhythm: Just like in music, rhythm in design is about creating patterns of repetition and contrast to create visual interest. This could be achieved through progression, alternation, or transition.
Focus and Emphasis: Every room needs a focal point or center of interest. This could be a piece of art, a beautiful view, or a stunning piece of furniture. The rest of the design should contribute to and support this focal point.
Color Theory: Understanding how colors affect moods and emotions is essential in interior design. Cool colors (like blue and green) are calming, while warm colors (like red and yellow) are energizing. Neutral colors (like white, grey, and beige) provide a perfect backdrop for bold color accents.
When designing your space, understanding and applying these principles of interior design will help ensure your home is not only beautiful but also comfortable and functional.
Tips on Choosing an Interior Design in Singapore
Identify Your Style: Start by identifying your personal style. Look for inspiration on design websites, magazines, or social media platforms like Pinterest. This will help you communicate your vision clearly to your designer.
Set a Budget: Define your budget early in the process. This will help narrow down your choices and steer the direction of your design project.
Research Designers: Take time to research various interior architects in Singapore. Look at their portfolios, read client reviews, and consider their style and expertise.
Make a Consultation: Before making a decision, arrange for a consultation with potential designers. This will give you an opportunity to discuss your project, assess their understanding of your vision, and evaluate their customer service.
Consider Project Management: If you don't have the time or experience to oversee the project, consider an interior design firm that offers project management services. They can handle the logistics, timelines, and coordination with subcontractors.
Ask for a Detailed Proposal: Once you've shortlisted your designers, ask them for a detailed proposal. This should include a design concept, an estimate of costs, and a proposed timeline.
Review Contract Details: Prior to signing any agreement, ensure you understand the terms of the contract, including pricing, timeline, scope of work, and any additional charges that may arise.
Remember that creating an interior design is a significant investment, one that can enhance the quality of your living environment. Thus, it's essential to make thoughtful and well-informed decisions.
Key Consideration Factors
Personal Style: Your home should reflect your personal style. Whether you prefer your interior design ideas to be minimalistic, modern, traditional, or eclectic design, make sure your space is a true representation of you.
Functionality: The design should consider your day-to-day activities and lifestyle. Think about how you use your space and plan accordingly.
Budget: Stay realistic about what you can afford. High-quality interior design doesn't need to break the bank. It's about making smart choices that align with your financial situation.
Sustainability: Consider eco-friendly designs and materials. This is not only good for the environment, but it also aligns with Singapore's emphasis on sustainability.
Space Utilization: With Singapore's limited space, optimizing what you have is crucial. Think vertical, use multi-functional furniture, and incorporate storage solutions in your design.
Lighting: Good lighting can make or break your interior design. It's essential to plan for a combination of general, task, and accent lighting.
Contractor: Choose a reputable interior designer or contractor. Research, ask for referrals, and check their previous work to ensure you're making the right choice.
Remember, the best interior design in Singapore is one that marries aesthetics with functionality, serving your needs while showcasing your unique style.
Interior Design Types in Singapore
1. Minimalist Design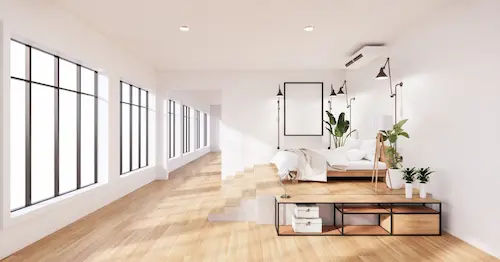 Minimalist design is associated with Zen-like tranquility and spaciousness, an appealing aspect especially considering the compact living spaces in the city. This design approach promotes thoughtful choices on ornamentation and a focus on the beauty of simplicity and functionality.
Furniture pieces are often selected for their form and function with a preference for quality over quantity. A minimalist interior design can create a sense of calm and peace in your home, making it a haven away from the busy urban lifestyle of Singapore.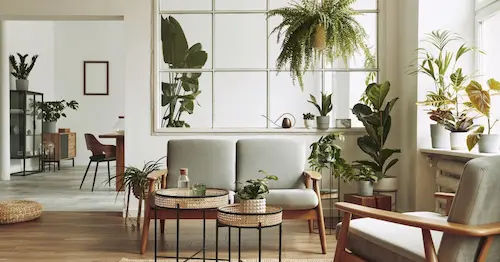 Scandinavian Design also emphasizes minimalism and simplicity, similar to minimalist design. It often incorporates open spaces, minimal furniture, and a mix of textures and patterns to create a cozy and homely feel.
Another unique element is the incorporation of indoor plants and the use of natural light, bringing an element of nature into the home. This design style is particularly popular in Singapore due to its focus on functionality and practicality, traits that are highly appreciated given the space constraints.
3. Modern Industrial Design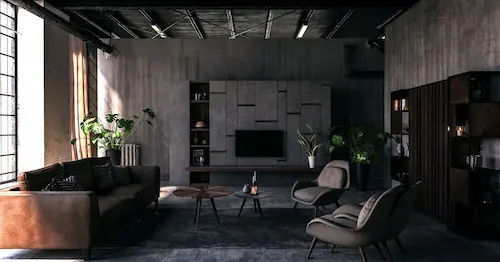 Modern industrial design embodies a sense of authenticity and uniqueness, favoring weathered furnishings and architectural details that tell a story. It is characterized by a neutral color palette, often leaning towards shades of grey and brown, and commonly uses materials like iron, steel, and concrete, all of which contribute to its distinctive character.
Lighting fixtures and accessories are typically chosen for their geometric shapes, creating a stark contrast against the raw textures of the space. This design style is perfect for those seeking a bold, yet understated aesthetic that blends the old and the new.
4. Traditional Peranakan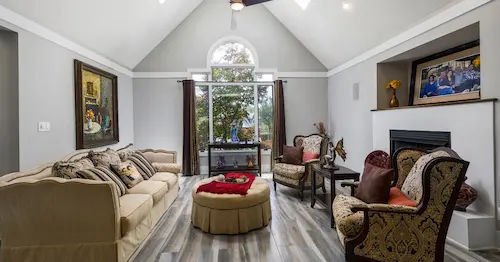 Intricate patterns and vibrant colors are the hallmarks. The use of carved wooden screens, or 'ang jee', and 'kerosang brooches' as decorative elements hark back to an era rich in cultural diversity and craftsmanship. Traditional Peranakan design seeks to celebrate and preserve this heritage, creating spaces that hint at the past while still being relevant to the present.
It also frequently incorporates 'Peranakan tiles' – these brightly colored tiles adorned with intricate floral or geometric patterns add a touch of charm and nostalgia to any space. The overall look is one of opulence and grandeur that's visually stunning and uniquely Singaporean.
5. Contemporary Interior Design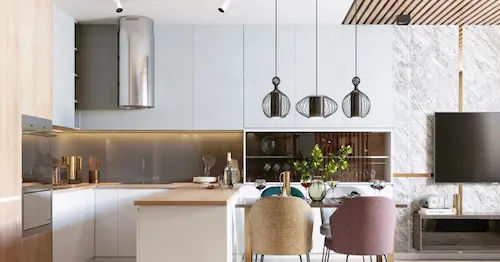 Evolves to reflect the popular styles of the current day. It includes clean, smooth surfaces and a minimalist approach to decoration. Furniture in a contemporary style home features exposed legs and slim designs. The color palette revolves around neutrals and black, punctuated by bold pops of color used sparingly.
This design method offers flexibility, allowing you to update your home with current trends without needing a complete overhaul. With its focus on simplicity, functionality, and harmony, contemporary interior design can contribute to a comfortable, calming environment in your Singaporean home.
6. Eclectic Design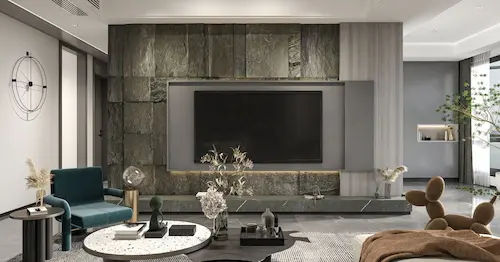 There are typically some common threads that tie the mixed elements together, such as a specific color palette or theme. Eclectic design allows for a high degree of freedom and creativity – you're not restricted by any specific style rules. However, it's important to maintain a sense of balance and harmony among the varied pieces.
This includes balancing colors, patterns, textures, and even the period or style of furniture pieces. The aim is to create a rich and vibrant space that reflects your individuality and taste. This design approach is perfect for anyone who loves to express their personality and isn't afraid to break the mold in Singapore's interior design scene.
7. Tropical Design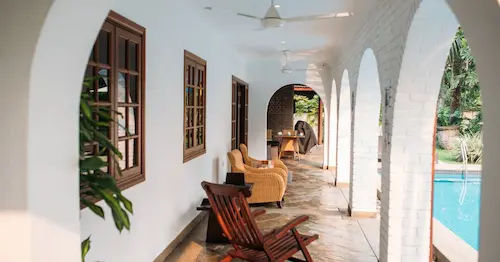 Extensively uses wooden furnishings and elements that have a raw, organic feel to them. The color scheme often revolves around earthy tones that mimic the hues found in nature. Large windows are a common element in this style, inviting plenty of natural light into the space and creating a seamless connection with the outdoors.
Moreover, elements like bamboo, rattan, and jute can be incorporated via furniture, rugs, or decorative items to add texture and reinforce the tropical theme. This design style is an excellent fit for Singapore's climate and can impart a tranquil, vacation-like feel to your home.
Each design style offers a unique aesthetic and atmosphere. Your choice should reflect your personal taste, lifestyle, and the functionality you desire in your home. Remember, good interior design in Singapore is not just about visual appeal but also about creating a comfortable and practical living environment.
Recommended Interior Design Companies in Singapore
1. Three-d Conceptwerke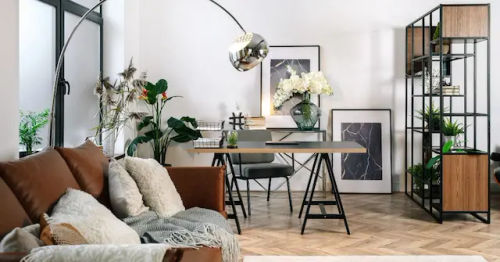 Key Services
Interior designers bring out stylish, expansive, and highly
functional settings.
Address
5 Jln Klapa, Singapore 199317
Website
three-d-conceptwerke.com
Phone
62938001
Operating Hours
Monday to Friday: 9:30AM–6PM
A design and renovation company with a wide-ranging skillset, Three-D Conceptwerke has been interpreting interior designer in Singapore, furnishing, and styling scenes since 2016.
Three-D Conceptwerke collaborates with professional interior designers to create chic, expansive, and remarkably practical interior environments. With features in reputable publications like Houzz and Home-Decor Design magazine, this interior design firm's creative expertise is relied upon by both domestic and professional customers.
2. Fifth Avenue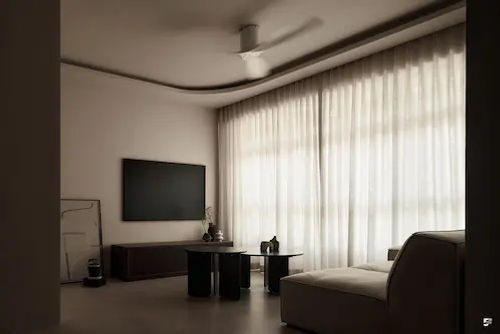 Key Services
Innovative and refreshing renovations
Address
Main Showroom: 81 Ubi Avenue 4 #01-11/12 UB. One Building Singapore 408830
Branch: 91 Owen Road Singapore 218903
Website
fifthavenue.com.sg
Phone
64439530
Fifth Avenue brings to the table a comprehensive suite of interior design and home renovation services. This band of young and dynamic interior designers in Singapore excels in delivering innovative and refreshing renovation projects to help you realize your dream home. Whether it's a complete overhaul or subtle enhancements, every renovation project undertaken by Fifth Avenue is a testament to their commitment to quality and excellence in interior design in Singapore.
The team adopts a client-centric design approach, actively listening to and incorporating the client's unique tastes at every stage of the process. Moreover, they suggest inventive home decoration ideas to revamp both new and pre-existing spaces across Singapore.
3. Starry Homestead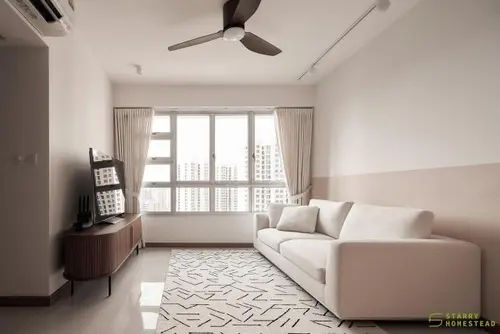 Key Services
Esteemed Interior designer in Singapore
Address
Central Showroom: 18 Boon Lay Way #01-101, Tradehub 21 Singapore 609966
East Showroom: 140 Paya Lebar Road, #01-01 AZ @ Paya Lebar Singapore 409015
West Showroom: 18 Boon Lay Way, #01-101 Tradehub 21, Singapore 609966
Website
http://starryhomestead.com/
Phone
(65) 6702 6866
Starry Homestead provides a full suite of services catering to HDB flats, condos, and landed property owners. Interior design services range from the initial stages of pre-planning and conceptualizing to the detailed work of spatial and layout planning.
Additionally, the firm manages the renovation process, custom fixture design, and furniture selection, and oversees the construction process. Their commitment to delivering end-to-end solutions makes them a top choice for interior designer in Singapore.
4. Dyel Design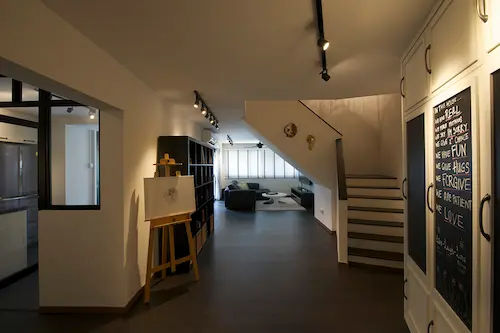 | | |
| --- | --- |
| Key Services | Residential and Commercial Interior designer |
| Address | 1 Tampines North Dr. 1, #03-30 T-Space, Singapore 528559 |
| Website | dyeldesign.com |
| Phone | 6227 1327 |
Dyel Design has extensive experience recognized by Qanvast SuperTrust and caters to a variety of commercial and residential spaces in Singapore. Their expertise ensures you receive options and project management strategies tailored to your specific unit, preferences, and lifestyle.
5. Space Atelier
Key Services
Scandinavian to Modern Interior designer
Address
6 Harper Road Leong Huat Building #05-07, Singapore 369674
Website
spaceatelier.com.sg
Phone
62960155
62960156
Operating Hours
Monday to Friday: 11AM to 9PM
Saturday to Sunday: 10AM to 7PM
Space Atelier offers a diverse array of interior design themes, ranging from Scandinavian to industrial, modern Victorian to luxe contemporary styles. The firm's unique suite of design concepts and high-quality processes have earned them several accolades, including the Qanvast SuperTrust, and HomeTrust awards for design, service, and their outstanding team of interior designers.
6. Casa Interior Design
Key Services
Budget-friendly Interior designer
Address
Oxley Bizhub, 61 Ubi Road 1 #03-22/26, Singapore 408727
Website
casaid.com.sg
Phone
62914846
Operating Hours
Monday to Saturday: 11AM to 6PM
Sunday: 12PM to 5PM
Leveraging over 19 years of experience in the interior design and renovation industry, Case Interior Design is renowned for bringing award-winning interior design to reality. Their extensive process includes everything from effective budget management, innovative design conception, and sourcing of superior materials, to seamless interior designs.
Interior Lab
Key Services
Aesthetic and comfort interior design
Address
Main Office: 86 Joo Chiat Place, Singapore 427803
CT Hub Showroom: 114 Lavender Street, #07-80, CT Hub 2, Singapore 338729
M38 Showroom: 38 Jalan Pemimpin, #02-04, M38 Singapore 577178
Chinatown Office: 31B Pagoda Street (3rd Floor), Singapore 059190
Website
theinteriorlab.com.sg
Phone
+6587338688
Operating Hours
Monday to Sunday: 11AM to 8PM
Renowned as a leading interior design company in Singapore, The Interior Lab employs talented designers and contractors to merge excellent design aesthetics, practicality, and comfort, thereby transforming ideal home renovation concepts into reality according to clients' requirements.
The team diligently provides design consultancy, space planning, 3D conceptualization, project management, and quality workmanship to ensure the best home renovation and interior design experience possible. The Interior Lab, with its proactive consultation method and high-grade portfolio, has accumulated numerous awards and favorable reviews over the years of its service.
Interior Design Costs in Singapore
Design Consultation: Typically, top interior designers in Singapore charge between SGD 100 to SGD 200 for a design consultation, which usually involves discussing your design preferences, understanding your needs, and visiting your home.
Design Proposal: Creating a custom design proposal that includes space planning, 3D renderings, and material selection can cost between SGD 1,500 to SGD 4,500, depending on the complexity of the project and the reputation of the design firm.
Execution: The bulk of your budget will go towards the execution phase, which involves demolition, construction, and installation of furniture and fixtures. For a standard HDB apartment, this can cost between SGD 30,000 to SGD 50,000. For private apartments and landed properties, the costs can go up to SGD 100,000 or more.
Furniture and Fixtures: Depending on your chosen design style and the quality of the materials, the cost for furniture and fixtures can range from SGD 5,000 to SGD 15,000.
Professional Fees: Interior design firms typically charge a professional fee, which is usually a percentage of the total project cost. This can range from 10% to 20%.
Remember, these are estimated costs and may vary depending on various factors like the size of your home, the complexity of the design, and the reputation of the interior design company. Always request for a detailed quotation to understand what's included in the cost and to avoid any hidden charges.
Interior Design Singapore
In the ever-evolving world of interior design in Singapore, it's clear that this vibrant city-state has much to offer. From embracing diverse design styles to prioritizing sustainability, Singaporean interior design reflects both innovation and tradition.
Whether you're seeking the perfect style, considering professional guidance, or embarking on a DIY project, this ultimate guide has equipped you with the knowledge and inspiration to embark on your interior design journey.
As Singapore continues to thrive as a hub of creativity and culture, your home can be a testament to the beauty and functionality that interior design can bring to life. So, dive in, explore, and transform your space into a reflection of your unique personality and the charm of this remarkable city.
Looking for more posts about interior design and renovation? Check out our other blog articles below:
Frequently Asked Questions (FAQ)
If you have any questions about Interior Design Singapore, you can refer to the frequently asked questions (FAQ) about the best Interior Design in Singapore below:
What are the best interior design companies in Singapore?
The best interior design companies in Singapore are Three-d Conceptwerke, Fifth Avenue, Starry Homestead, Dyel Design, and Space Atelier.
Is interior design in demand in Singapore?
Today, there is a growing demand for interior designers in Singapore who are able to create beautiful, functional and sustainable spaces.
How to be an interior designer in Singapore?
This could be a diploma or a degree in interior design. There are a range of courses available in the country, including those offered by the Nanyang Academy of Fine Arts and Ngee Ann Polytechnic. The course usually includes modules such as D design, colour theory, and building construction.
What is interior design, and why is it important in Singapore?
Interior design is the art of enhancing the interior of a space for both aesthetics and functionality. In Singapore, where space is limited, interior design plays a crucial role in maximizing living spaces and creating beautiful homes.
What are some popular interior design styles in Singapore?
Singapore embraces various styles, including minimalist, industrial, tropical, and more. The choice depends on individual preferences and the desired ambiance.
How can I personalize my interior design in Singapore?
Personalization can be achieved through personal touches like family photos, artwork, cultural elements, and custom-made furniture or decor items.
Why should I consider hiring a best interior designer in Singapore?
Interior designers bring expertise, access to resources, and project management skills to ensure your space is well-designed, functional, and aesthetically pleasing.
How do I choose reliable interior designers for my project?
Consider factors like budget, style compatibility, and credentials. Review their portfolio, ask for references, and ensure effective communication.
What are the typical stages of the interior design process?
The process includes consultation, planning, design development, construction, and finishing touches. Each stage refines the design and brings your vision to life.
How should I budget for my interior design project in Singapore?
Set a realistic budget, allocate it effectively with the help of your designer, and have a contingency fund for unforeseen expenses during construction.
What are some current interior design trends in Singapore?
Current trends include color palettes, materials, and furnishings aligned with sustainability, as well as innovative design solutions that maximize space.
How can I incorporate sustainability into my interior design project in Singapore?
Consider eco-friendly materials, energy-efficient solutions, and a focus on reducing waste to make your interior design more sustainable.
What are some DIY decorating ideas I can implement in Singaporean interior design?
DIY projects can include creating custom decor items, repurposing furniture, or adding personal touches that reflect your style and personality.
Additional Useful Articles
If you are looking for other useful guides and articles about interior design in Singapore, check them out below: